To:

President Joe Biden
No More U.S. Air Attacks in Afghanistan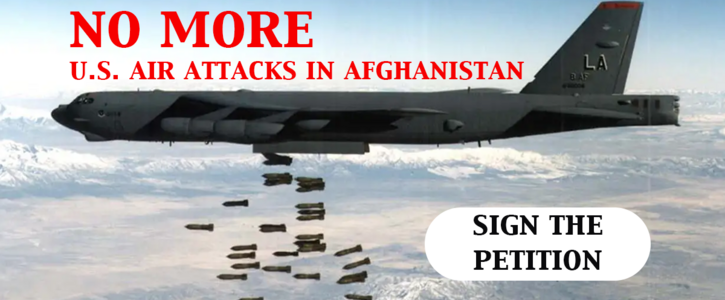 Petition Text
Whereas:
1. As the U.S. withdraws ground forces from Afghanistan, the Air Force is seeking $10 billion for air operations in the Middle East and South Asia in connection with having the ability to send U.S. aircraft "over the horizon" back into Afghanistan from bases in Qatar, the United Arab Emirates and Kuwait, relatively long flights that in some cases might require in-air refueling. The aircraft carrier U.S.S. Eisenhower has also been mentioned as a possible launch site.
2. Secretary of Defense Lloyd Austin has told Congress that the U.S. intends to be capable of conducting air attacks against "elements that can possibly conduct attacks against our homeland." While he and other officials mention attacks against Al Qaeda and ISIS, he left open the door to U.S. air attacks against the Taliban should it take over control of Afghanistan's central government.
3. U.S. air attacks inside Afghanistan for any reason whatsoever will not only kill more Afghans, these attacks will further inflame an already violently contentious situation in Afghanistan, and they will postpone the time when members of the Afghan community will reach a stable political balance among themselves.
4. U.S. "over the horizon" operations reportedly will depend heavily on the use of attack and surveillance drones. This use of drones amounts to an effort to further occupy Afghanistan from the sky, and represents a bid for U.S. influence in events on the ground through the veto power of assassination and ability to target attacks by manned aircraft. The use of drones by the U.S. for any purpose in Afghanistan can only complicate the political and military situation and lead to more violence.
5. The reported "over the horizon" weaponized and surveillance drone planning comes at a time when you have reportedly ordered re-examining U.S. drone war policy with an eye to reducing civilian casualties. Mounds of evidence show that use of weaponized drones and drone surveillance have caused wide-spread trauma and unacceptable harm to civilian populations and violate international law.
6. The existence of factions within Afghanistan who might be plotting violence against the U.S. was the excuse for the Afghanistan invasion 20 years ago, even though the situation was then, and is now, not a cause for war but a matter for local and international judicial investigation and action.
7. The U.S. "over the horizon" effort may well push competing Afghan factions to seek high-tech weaponry, including drones, produced by China, Turkey, Russia and others, as has happened in the Libyan civil war. The situation in Libya has led to what may be the first use of a nearly autonomous killer drone, the Turkish built Kargu-2, which is essentially a flying hand grenade that appears to be able, through artificial intelligence programing, to identify the shapes of humans, pursue them and explode in the air over their heads. We are also concerned that arms developers may view Afghanistan as yet another testing ground for new weaponry, without regard to the impact on Afghan people or on proliferation.

8. The refusal by Pakistan's President Imran Khan to allow the U.S. to use Pakistan air bases to fly "over the horizon" missions into Afghanistan, and the apparent reluctance of other neighbors of Afghanistan to have their bases used, is an indication of how unwelcome further U.S. military air operations in Afghanistan are in the region, not only out of possible sympathy for the Afghan people but also for fear that further killing and warfare within Afghanistan will cross borders into their countries.
9. The effort by the U.S. to retain a level of control of the Kabul international airport through engaging the Turkish government in providing "security" for the airport is objected to by the Taliban, and these U.S. efforts further complicate and forestall internal political settlement. While the U.S. speaks of the need to keep the Kabul airport within its control to allow diplomatic and aid flights, the Kabul facility has also handled military aircraft and could be of critical use for refueling and otherwise aiding "over the horizon" missions and is therefore likely to become a major flashpoint.
10. We are concerned that the planned "over the horizon" project is the new phase of U.S. colonial intentions in Afghanistan, tragically enabled by the sense in Washington political an military circles that drone killing and surveillance, particularly of people of color, have no domestic political cost.
Therefore, we call on you to pledge that there will be no further U.S. air attacks on the Afghan people and that the U.S. will discontinue drone surveillance operations there as well.
Why is this important?
SIGNED BY
Ann Wright - Col. U.S. Army (Retired), resigned U.S. State Department official in Afghanistan and member of the CODEPINK anti-drone war delegation to Pakistan in 2012.
Matthew Hoh - Former U.S. Marine officer and resigned U.S. State Department official in Afghanistan.
Kathy Kelly – Peace activist who has made 30 trips to Afghanistan and Co-coordinator BanKillerDrones.org.
Brian Terrell – Peace activist who has made multiple trips to Afghanistan and board member of BanKillerDrones.org
Medea Benjamin – Co-founder of CODEPINK, organizer of the anti-drone war protest delegation to Pakistan in 2012.
Leah Bolger - Commander, U.S. Navy (Retired) , President, World Beyond War and a member of the CODEPINK anti-drone war protest delegation to Pakistan in 2012.
Chelsea Faria – Board member, BanKillerDrones.org and a member of the CODEPINK anti-drone war delegation to Pakistan in 2012.
Judy Bello – Upstate (NY) Drone Action and a member of the CODEPINK anti-drone war delegation to Pakistan in 2012.
Mairead Maguire, Nobel Peace Prize Winner, 1976 and visitor to Afghanistan in 2012.
David Swanson – Executive Director, World BEYOND War.
The Rev. Dr. Emma Jordan-Simpson – Executive Director, Fellowship of Reconciliation (USA).
Garett Reppenhagen, Executive Director, Veterans For Peace.
Richard A. Falk, Professor Emeritus of International Law, Princeton University.
Joe Lombardo, Coordinator, United National Antiwar Coalition.
Phyllis Bennis – Institute for Policy Studies.
Dr. Christine Schweitzer, Federation for Social Defence (Germany).
Chris Cole, Director, Drone Wars UK.
Debra Sweet – Director, World Can't Wait.
Susan Schnall – President, Veterans for Peace, New York City chapter, Veterans for Peace national board member.
Maurice Carney - Friends of the Congo.
Nada Khader - Executive Director, WESPAC Foundation, Westchester County, NY.
Frank Brodhead – Coordinator, Concerned Families of Westchester (NY).
Jack Gilroy – Veterans for Peace, Upstate (NY) Drone Action.
Robert M. Smith – Brandywine Peace Community, Philadelphia, PA.
Peace Action of Broome County, NY.
Veterans for Peace of Broome County, NY.
Friends of Franz & Ben.
Ed Kinane and Ann Tiffany – Upstate (NY) Drone Action.
Malachy Kilbride – Peace organizer.
Janice Sevre-Duszynska – Baltimore Nonviolence Center.
Susan H. Smith – Fellowship of Reconciliation (USA).
Joy First – Peace organizer.
Max Obuszewski – Baltimore Nonviolence Center and Baltimore Peace Action.
Nick Mottern – Co-coordinator, BanKillerDrones.org
SOURCES
1.
>> https://www.defenseone.com/policy/2021/06/now-over-horizon-protection-afghanistan-will-fly-existing-hubs-acting-air-force-secretary-says/174595/
>> https://www.defense.gov/Newsroom/Transcripts/Transcript/Article/2665540/pentagon-press-secretary-john-f-kirby-holds-a-press-briefing/
2.
>> https://www.c-span.org/video/?512340-1/defense-department-fiscal-year-2022-budget-request&live=
>> https://tolonews.com/afghanistan-172830
4.
>> https://www.nytimes.com/2021/06/09/us/politics/afghanistan-airstrikes-us-troop-withdrawal.html
5.
>> https://www.nytimes.com/2021/06/06/us/politics/cia-afghanistan-pakistan.html
>> https://www.nytimes.com/2021/03/03/us/politics/biden-drones.html
>> https://bankillerdrones.org/dangers/https:/bankillerdrones.org/dangers/
6.
>> https://www.iadllaw.org/files/BOMBING OF AFGHANISTAN IS ILLEGAL AND MUST BE STOPPED by Marjorie Cohn.pdf
7.
>> https://documents-dds-ny.un.org/doc/UNDOC/GEN/N21/037/72/PDF/N2103772.pdf?OpenElement
8.
>> https://www.washingtonpost.com/opinions/2021/06/21/afghanistan-pakistan-imran-khan-peace-security-cooperation-us/
>> https://thehill.com/opinion/national-security/557714-biden-and-nato-must-face-the-consequences-of-americas-withdrawal
9.
>> https://www.aljazeera.com/news/2021/6/11/turkeys-troops-should-leave-afghanistan-under-2020-deal-taliban
>> https://military.wikia.org/wiki/Hamid_Karzai_International_Airport