To:

Pope Francis
Petition Pope Francis to Formally Reject "Just War" Doctrine

World Beyond War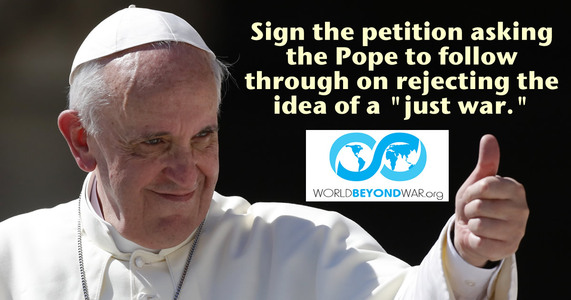 Petition Text
We urge you to follow through on the meeting the Vatican hosted on April 11-13, 2016, which recommended in its final statement that you publish an encyclical rejecting the idea that there can be a just war, promoting the teaching and use of nonviolence, and working toward the abolition of war and weapons of war. We ask you to influence as much of humanity as you can to shun participation in war and in the manufacture and trade of weapons. We thank you for this leadership and are hopeful that it will make a world of difference. We are ready to make war a thing of the past.
Why is this important?
We're asking everyone in the world, religious or not, to please add your name on this petition to Pope Francis. This petition is supported by World Beyond War, Fellowship of Reconciliation, World Peace Now, Coop Anti-War Cafe Berlin, American Voices Abroad Berlin, Jeannette Rankin Peace Center, and Nobel Peace Prize Watch.
More information:
> Statement and photos from April 11-13, 2016 Vatican Meeting http://nonviolencejustpeace.net
> Howard Zinn: A Just Cause, Not a Just War http://www.progressive.org/news/2007/07/5084/just-cause-not-just-war
> New book: War Is Never Just by David Swanson http://davidswanson.org/node/5277
How it will be delivered