To:

The U.S. Institute of Peace
Ask the U.S. Institute of Peace to Work for Peace

World Beyond War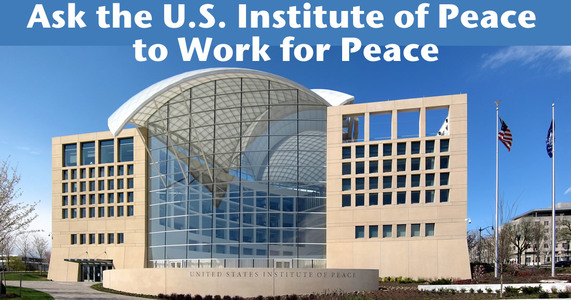 Petition Text
We urge you to oppose U.S. militarism and begin working for an end to U.S. war-making by providing to Congress and the public information on the disastrous results of recent U.S. wars and the superior results of nonviolence and diplomacy. We ask that you recommend to the President of the United States the removal from your board of Stephen Hadley, Eric Edelman, and Frederick M. Padilla, and their replacement by three seasoned peace activists, along with a recommendation to maintain at least three seasoned peace activists on your board at all times -- right now there are none.
Appropriate events that USIP could host:
How to Finally End the Korean War,
Abolition of Armed Drones,
A Plan to Close Overseas Bases,
Why Does NATO Still Exist?,
How Can the Kellogg-Briand Pact Be Complied With?,
What Could $2 Trillion a Year Buy Instead of War?,
Military Abolition and the Costa Rican Model,
Pondering Polling: How Did the U.S. Become Seen as the Greatest Threat to World Peace?,
Pinkerism and the Myth that War Is Vanishing,
WMD Tales From Iraq to Iran,
Vietnam Syndrome: Illness or Health?,
Benefits of Joining the International Criminal Court,
If War Makes Us Less Safe Why Can't We Stop?,
The Economic and Moral Benefits of Transition to Peaceful Industries,
The ICCPR Ban on War Propaganda,
Diplomacy in Iran: Why Not in Eight Other Places?,
Why Arm Dictatorships?,
Whose Land Is Guantanamo?,
The Convention on the Rights of the Child - Why Not?,
What Is Preventing Spacefaring Powers from Banning Weapons in Space?,
Why Not Reinstate the Anti-Ballistic Missile Treaty?,
Should Palestinians Have Human Rights?,
Remembering the Maine, the Lusitania, Tonkin Gulf . . . What Would Accurate History Change?,
What Would Compliance with the Nuclear Non-Proliferation Treaty Look Like?
Reports USIP could write:
U.S. arms sales to each foreign nation, as compared to the sales of other nations -- a report the Congressional Research Service has ceased producing.
U.S. military spending, as compared to non-military government spending -- a report the Arms Control and Disarmament Agency has ceased producing.
INITIAL SIGNERS:
David Swanson
Coleen Rowley
Heinrich Buecker
Robert Fantina
David Hartsough
Medea Benjamin
Gael Murphy
Kevin Zeese
Jodie Evans
John Heuer
Norman Solomon
Elizabeth Murray
Thomas Drake
Ann Wright
Todd Pierce
Alice Slater
Kent Shifferd
Jeff Cohen
William Binney
Ray McGovern
Kevin Martin
Barbara Wien
Leah Bolger
Patrick Hiller
Jim Haber
Gar Smith
Why is this important?
The U.S. Institute of Peace (USIP) is a federal government institute created by a bill signed into law in 1984 by President Ronald Reagan and funded annually by Congress as well as sometimes receiving funding from the Department of State, the U.S. Agency for International Development (USAID), and the military.[1] The law states that the "Secretary of State, the Secretary of Defense, the Director of the Arms Control and Disarmament Agency, and the Director of Central Intelligence each may assign officers and employees of his respective department or agency, on a rotating basis to be determined by the Board, to the Institute."
The Institute has never opposed a U.S. war and claims that it can only support things, not oppose them. But in fact, the law only forbids it from seeking "to influence the passage or defeat of legislation ... except that the personnel of the Institute may testify or make other appropriate communication when formally requested to do so by a legislative body, a committee, or a member thereof." Most U.S. wars, including the war on Libya, the newly revived war on Iraq (and Syria), and the drone wars on Pakistan, Somalia, and Yemen, have been launched without legislation. And, even if there were legislation involved, it would not be at all difficult for USIP to ask a single member of Congress to request its opinion, thereby freeing it to provide its views and its research. USIP makes no claim that it cannot provide the public with information on the negative results of U.S. wars; it simply fails to do so.
The Institute in fact makes recommendations to Congress, including in formally presented testimony, it just recommends things like supporting the Syrian opposition, training and arming troops to fight both ISIS and the Syrian government, and creating a "no fly zone" in Syria, rather than working toward an arms embargo or aid or diplomacy.[2] The Institute has recommended diplomacy with Iran, and could do so in a dozen other cases, although its notion that weapons sales is part of diplomacy may be less than helpful.[3]
The law requires that the USIP Board include 15 voting members, including the Secretaries of State and "Defense," the President of the National "Defense" University, and 12 members appointed by the President with the advice and consent of the Senate, and each having "practical or academic experience in peace and conflict resolution." The law also states that "No member of the Board may participate in any decision, action, or recommendation with respect to any matter which directly and financially benefits the member or pertains specifically to any public body or any private or nonprofit firm or organization with which the member is then formally associated or has been formally associated within a period of two years." There are a number of mechanisms for removing a board member, including 8 or more board members making that recommendation to the President.
The USIP does do some work aimed at peace, including hosting speakers and producing publications aimed at peace, sending skilled mediators into conflict zones, making research grants, holding essay contests, and conducting conflict-resolution trainings, but such efforts are deeply compromised by the following concerns:
USIP board member and chairman, Stephen Hadley, urges the bombing of Syria and the militarization of Ukraine, while encouraging European nations to double their military spending, and himself profiting from war as a board member of Raytheon.[4]
USIP board member Eric Edelman, a former undersecretary at the Pentagon, promotes higher military spending, an attack on Iran, and deployment of nuclear weapons to nations on Russia's border.[5]
USIP board member Major General Frederick M. Padilla, USMC, is career military.
USIP promotes the overthrow of the Syrian government.[6]
USIP is not known to have ever opposed a U.S. war, U.S. weapons exports, U.S. foreign bases, or U.S. military spending.[7]
USIP promotes trade embargoes, economic austerity programs, and electoral interventions as tools of aggression, not peace building.[8]
USIP funds many more supporters than opponents of militarism.[9]
USIP hosts pro-war talks by leading war advocates.[10]
Appropriate board members for USIP exist in large numbers, and many of them would no doubt be happy to serve. Here are a few examples of the many possible names: Kathy Kelly, Michael McPhearson, Ann Wright, Paul Chappell, Noura Erekat, Dennis Kucinich, David Vine, Matt Daloisio, John Dear, Bruce Gagnon, Phil Donahue, Mel Duncan, David Hartsough, Mubarak Awad, Leslie Cagan, Roy Bourgeois, Cornell West, Lennox Yearwood, Osagyefo Sekou, Phyllis Bennis, Andy Shallal, Helena Cobban, Noam Chomsky, Elliott Adams.
How it will be delivered