To:

United States Government
Negotiate with North Korea on Its Offer to Cancel Nuclear Tests

World Beyond War
The United States began negotiating with North Korea rather than rejecting its offer to halt nuclear tests -- with outcome yet to be determined.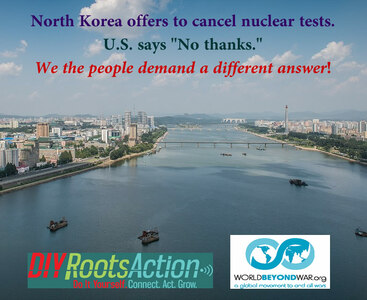 Petition Text
The U.S. should negotiate with North Korea on its proposal to cancel nuclear tests in exchange for a U.S. suspension of joint military exercises with South Korea
Why is this important?
The DPRK government (North Korea) disclosed on Jan. 10, 2015, that it had delivered to the United States the day before an important proposal to "create a peaceful climate on the Korean Peninsula."
This year, we observe the 70th anniversary of the tragic division of Korea in 1945. The U.S. government played a major role in the arbitrary division of the country, as well as in the horrific Korean civil war of 1950-53, wreaking catastrophic devastation on North Korea, with millions of Korean deaths as well as the deaths of 50,000 American soldiers. It is hard to believe that the U.S. still keeps nearly 30,000 troops in South Korea today, even though the Armistice Agreement was signed back in 1953.
According to KCNA, the North Korean news agency, the DPRK's message stated that if the United States "contribute(s) to easing tension on the Korean Peninsula by temporarily suspending joint military exercises in South Korea and its vicinity this year," then "the DPRK is ready to take such responsive steps as temporarily suspending the nuclear test over which the U.S. is concerned."
Unfortunately, it is reported that the U.S. State Department rejected the offer on Jan. 10, claiming that the two issues are separate. Such a quick spurning of the North's proposal is not only arrogant but also violates one of the basic principles of the U.N. Charter, which requires of its members to "settle their international disputes by peaceful means." (Article 2 [3]). To reduce the dangerous military tensions on the Korean Peninsula today, it is urgent that the two hostile States engage in mutual dialogue and negotiation for a peaceful settlement of the lingering Korean War, without any preconditions.
The North's proposal comes at a time of increasing tensions between the U.S. and DPRK over a Sony film, which depicts a brutal CIA-induced assassination of the current North Korean leader. In spite of the growing doubts by many security experts, the Obama administration hastily blamed the North for last November's hacking of the Sony Pictures' computer system and subsequently imposed new sanctions on the country. Pyongyang proposed a joint investigation, denying its responsibility for the cyber-attacks.
The winter U.S.-R.O.K. (South Korea) war drill usually takes place in late Feb. DPRK put its troops on high military alert on such occasions in the past and conducted its own war drills in response. Pyongyang regards the large-scale joint war drills as a U.S. rehearsal for military attacks, including nuclear strikes, against North Korea. In the last year's drill, the U.S. flew in B-2 stealth bombers, which can drop nuclear bombs, from the U.S. mainland, as well as bringing in U.S. troops from abroad. In fact, these threatening moves not only provoke the North but also violate the Korean War Armistice Agreement of 1953.
Instead of intensifying further sanctions and military pressures against the DPRK, the Obama administration should accept the recent offer from the North in good faith, and engage in negotiations to reach positive agreements to reduce military tensions on the Korean Peninsula.
INITIAL SIGNERS:
John Kim, Veterans for Peace, Korea Peace Campaign Project, Coordinator
Alice Slater, Nuclear Age Peace Foundation, NY
Dr. Helen Caldicott
David Swanson, World Beyond War
Jim Haber
Valerie Heinonen, o.s.u.,Ursuline Sisters of Tildonk for Justice and Peace, U.S. Province
David Krieger, Nuclear Age Peace Foundation
Sheila Croke
Alfred L. Marder,U.S. Peace Council
David Hartsough, Peaceworkers, San Francisco, CA
Coleen Rowley, retired FBI agent/legal counsel and peace activist
John D. Baldwin
Bernadette Evangelist
Arnie Saiki, Coordinator Moana Nui
Regina Birchem, Women's International League for Peace and Justice, US
Rosalie Sylen, Code Pink, Long Island, Suffolk Peace Network
Kristin Norderval
Helen Jaccard, Veterans For Peace Nuclear Abolition Working Group, Co-chair
Nydia Leaf
Heinrich Buecker, Coop Anti-War Cafe Berlin
Sung-Hee Choi, Gangjeong village international team, Korea
Gar Smith, Environmentalists Against War
References:
1) NYT, 1/10/2015, http://www.nytimes.com/2015/01/11/world/asia/north-korea-offers-us-deal-to-halt-nuclear-test-.html?_r=0
2) KCNA, 1/10/2015
3) Lt. Gen. Robert Gard, "Strategic Patience with North Korea," 11/21/2013, www.thediplomat/2013/11/strategic-patience-with-North-Korea.
How it will be delivered
We will deliver in Washington, D.C.