To:

President Biden
President Biden: Publish the Equal Rights Amendment NOW!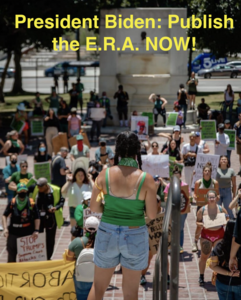 Petition Text
We need equal protections enshrined in the Constitution, for people regardless of their sex or gender. Women and people of marginalized genders continue to be denied equality in this country.
It's time. Our generation is taking up the decades-long struggle to make the Equal Rights Amendment the 28th Amendment to the United States Constitution. It has been almost 100 years--no more excuses, we need equal protections in the Constitution now. We are closer than ever before. All we need is for you to take action.
The fight for the E.R.A. has been a long road, but for the first time in history we are at the finish line and need you President Biden to push us over. As of 2020, the E.R.A. has met all Constitutional requirements to become an official amendment -- the required number of states have ratified the ERA.​​ As part of finalizing the E.R.A. we need the archivist to publish the E.R.A. now. We demand equality. We are born equal, it is time our Constitution reflects it. From abortion rights to equal pay and Black maternal health, our communities are on the line.
We call on you, President Biden, to be on the right side of history and finally make the E.R.A. the law of the land.
#ERANow
Why is this important?
The fight for the E.R.A. has been a long road, but for the first time in history we are at the finish line and need Biden to push us over. As of 2020, the E.R.A. has met all Constitutional requirements to become an official amendment-- all necessary states have ratified the ERA.​​ As part of finalizing the E.R.A. we need President Biden to publish it now! We are so close to having equal protections enshrined-- We owe it to our feminist ancestors to finish and finally win this fight! ​
We demand equality. We are born equal, it is time our Constitution reflects it. From abortion rights to equal pay and Black maternal health, our communities are on the line. Send a letter to Biden now and tell him to Publish the Equal Rights Amendment