To:

The Bahraini Government
Release Imprisoned Bahraini Human Rights Defender Dr. Abduljalil al-Singace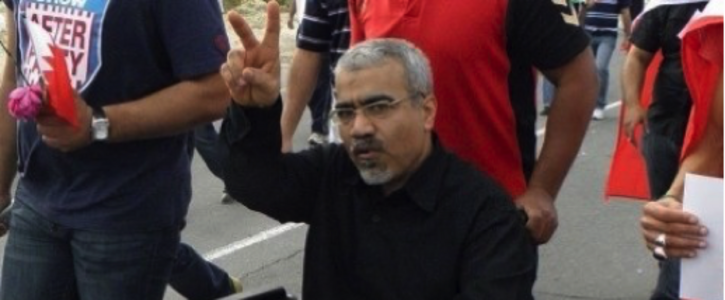 Petition Text
Free Dr. Abduljalil al-Singace immediately.
Why is this important?
From Americans for Democracy & Human Rights in Bahrain:
Dr. Abduljalil al-Singace is a Bahraini academic, blogger, and human rights defender sentenced to life in prison after he called for democracy during Bahrain's 2011 Arab Spring protest movement. Along with twelve other leading human rights and political activists that would come to be known as the "Bahrain 13," Dr. al-Singace was tortured before a military court convicted him on baseless charges stemming from his right to free expression. Despite international criticism and formal calls for reform, civilian courts upheld the "Bahrain 13" rulings and confirmed his life sentence.
Now, Dr. al-Singace is spending his 56th birthday in prison – his sixth behind bars since the start of his unjust life sentence.
Dr. al-Singace suffers from a number of serious, ongoing health concerns – including post-polio syndrome and sickle-cell anemia – that the Bahraini government has refused to adequately address during his detention. Authorities have consistently denied Dr. al-Singace regular medical treatment and have failed to provide him with surgery required as a result of the torture he suffered in 2011. Prison officials have even denied Dr. al-Singace necessary medical supplies, including rubber stops for the bottom of his crutches. As a consequence, it is difficult for him to walk, and he is prone to slipping and falling on his unstable crutches – avoidable accidents which draw ridicule from prison guards.
In recent weeks, Dr. al-Singace and other prominent prisoners of conscience held in Bahrain's Jau Prison have faced increased harassment, including repeated raids at odd hours which have resulted in the confiscation of nearly all personal effects. Dr. al-Singace has had all books, papers, pens, and materials seized, including the only manuscript of a book he had been authoring during his detention. Though advocates for Dr. al-Singace have issued repeated complaints to Bahraini oversight institutions, the government has taken no action to rectify these issues.
Dr. al-Singace has been subjected to torture, arbitrary detention, inhumane and degrading treatment, and life imprisonment – merely for peacefully exercising his right to free opinion and expression.
But you can help.
Take this opportunity on Dr. al-Singace's 56th birthday to sign this petition calling for his immediate release, and demanding the Bahraini authorities provide him unrestricted access to adequate medical care.
After signing the petition, please use the tools on the next webpage to share it with your friends.
Please tweet at the Bahraini Ministry of Foreign Affairs (@bahdiplomatic) and the Foreign Minister (@khalidalkhalifa) to call for Dr. Abduljalil al-Singace's release and for him to be provided proper medical care. Feel free to use the following sample message: #Bahrain human rights defender Dr. Abduljalil al-Singace shouldn't spend another birthday in prison. @bahdiplomatic @khalidalkhalifa must ensure he is immediately released & given proper medical care!
Background from ADHRB:
• The Health of Nabeel Rajab and Dr. Abduljalil al-Singace
https://www.adhrb.org/2017/06/hrc35-item-3-oral-intervention-health-nabeel-rajab-dr-abduljalil-al-singace/
• High-Profile Political Leaders and Human Rights Defenders Face Ongoing Degradation, Punishment, and Restrictions on Access to Medical Care
http://www.adhrb.org/2017/10/high-profile-political-leaders-and-human-rights-defenders-face-ongoing-degradation-punishment-and-restrictions-on-access-to-medical-care/
• No contact for a week: Family fears for Dr. al-Singace's health
http://www.adhrb.org/2016/07/no-contact-week-family-fears-dr-al-singaces-health/
• Urgent Appeal: Release Prisoner of Conscience Dr. Abduljalil al-Singace as Hunger Strike Reaches 160th Day
https://www.adhrb.org/2017/10/high-profile-political-leaders-and-human-rights-defenders-face-ongoing-degradation-punishment-and-restrictions-on-access-to-medical-care/
• Champion of Justice: Dr. Abuljalil al-Singace
http://www.adhrb.org/wp-content/uploads/2013/11/Champion-of-Justice-Abduljalil-al-Singace.pdf