To:

John Kerry, US Secretary of State, Philip Hammond, UK Foreign Secretary
Sign the United Nations General Assembly Resolution on Depleted Uranium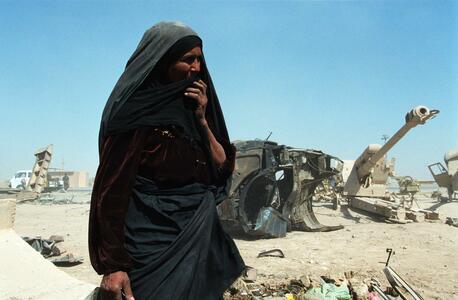 Petition Text
Sign the United Nations General Assembly Resolution on Depleted Uranium
Why is this important?
I served in the Parachute Regiment and the Special Air Service for eight years. I have spoken out about the reality of the war in Iraq on numerous occasions since I left the army but only recently have I learned about another of its cruel legacies; chemically toxic and radioactive depleted uranium (DU).
I was not surprised last week when I heard the UK and US had voted against a United Nations General Assembly Resolution that asked states to provide help to Iraq in dealing with DU contamination and for UN agencies to carry out more research into its potential negative effects on public health and the environment.
The Ministry of Defence (MoD) has long argued that DU weapons are effective and necessary to save soldiers' lives, but they refuse to take into account the effect on civilian populations that especially as they can continue long after a war has ended. When it is fired it creates a DU dust which, if breathed in, has the potential to mutate DNA and cause cancers and birth defects. In Iraq, the battles took place in towns and cities full of people. The Iraqi government knows of 300 contaminated sites today – hundreds more are unidentified. This contamination poses a threat to the Iraqi people, particularly pregnant women and children who are especially susceptible to exposure from toxic materials.
The MoD claims that there is no evidence that DU has caused health problems in Iraq. However, there is no evidence because there have been no health studies carried out specifically on civilians living in contaminated areas.
Last year, the former director of the World Health Organisation's (WHO) Iraq programme, Dr Neel Mani, said that the organisation knew of abnormal rates of health problems as far back as 2001. However, cynicism from 'certain member states' and a politicised funding structure had left them unable to do anything about it. He is not the first person to speak out but the denial and the political power of the offending states means that this public health crisis continues.
Within Iraq, many people continue to speak out about this. The International Committee of the Red Cross have reports of being approached by tribal leaders who say that clean-up of DU 'exceeded any other humanitarian concerns'. As the father to three beautiful, healthy children I found it so distressing when I heard Dr Samira Alaani, an Iraqi paediatrician report: 'The first question I am asked when a child is born is not 'is it a boy or a girl?' but 'is my child healthy?' It makes me so angry that, for all of our promises of freeing Iraq, what we have left them is a toxic legacy that will last for generations to come.
As a former soldier who fought in Iraq, I can safely say that this is not why I joined the British Army. Nor do I believe that many other soldiers are happy with the fact that they are being made complicit with these acts. Doctors across Iraq have been reporting much higher than normal incidences of cancer and birth defects for years now.
It has been estimated that cleaning up the 300 known contamination sites would cost between US$30-45 million. To people like me and you that is a lot of money but to governments that have spent billions on war, it is a drop in the ocean. If they cannot afford to clean it up, they should not have made us use it in the first place.
In December the United Nations General Assembly (UNGA) will take a second vote on a draft resolution on DU weapons. It will be the fifth one of its kind and will no doubt, once more, see a majority of the states vote in favour of it – 155 did last time.
The UNGA draft resolution asks states that have fired DU to provide firing locations. It asks international organisations to carry out further research. It asks any states with the means to do so to provide assistance to countries affected by DU. It is not a lot to ask, so why do the UK and US persistently vote against these resolutions?
Just last month the Iraqi government joined the doctors and people of Iraq in asking for help to clean up this mess and to conduct research into the problems their country is facing. They know they cannot do it alone; this will take an international effort and it needs to be done sooner rather than later.
We must support the people of Iraq, which is why I am demanding that the UK and US support the current UN resolution. Please add your voice to this campaign and demand that the US and UK take responsibility for their actions.