To:

MDC-Brooklyn Warden
A Call to Action for Mark Clarke at the Metropolitan Detention Center in Brooklyn, NY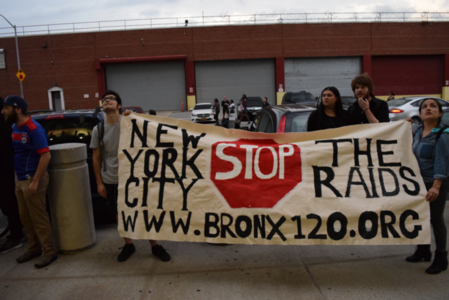 Petition Text
Petition text: We demand Mark Clarke's immediate transfer and the end of all violent treatment against him at Metropolitan Detention Center in Brooklyn.
Mr. Mark Clarke needs to be allowed visits and phone calls, and all documentation about his continued segregation needs to be released to his family.
Why is this important?
Mr. Mark Clarke was arrested on April 27, 2016 along with 119 other people in the largest "gang" raid in NYC history. They are now known as the Bronx 120.
https://www.bronx120.org/
Indicted on the basis of "evidence" such as social media surveillance, "association" and the NYPD's highly discriminatory criteria for identifying "gang members," the Bronx 120 face federal charges from a DA's office that boasts a 90+% conviction rate. Being charged under the RICO (Racketeer Influenced and Corrupt Organizations) Act of 1970 allows for all 120 young men to be implicated in the same 8 alleged murders dating back to 2007. Since the shock-and-awe style raid by 700 militarized law enforcement officials from 6 different agencies last April, the state has employed numerous scare tactics against the Bronx 120 and their loved ones in an attempt to silence opposition to this blatant abuse of authority.
Mark Clarke has been sent to Metropolitan Detention Center, the federal prison in Brooklyn, to await trial. Since Mark has been at MDC, other prisoners have reported multiple personal attacks against him by MDC correctional officers, including being denied family visits, being shot with rubber bullets and sprayed with tear gas while in his cell. Although Mark has documented psychiatric issues since his imprisonment last April, he has been denied visits to the psychiatric unit at MDC, despite multiple requests from his mother. Mr. Clarke has been in solitary confinement since September 14, 2016 and will be until October 2017 unless we act on his behalf.
Please use this link to donate to the Bronx 120 Commissary and Legal Fund. Because this is a very large federal case, there is a shortage of local lawyers with the experience needed to take it on. This fundraiser will go towards helping to get additional legal support and contribute to commissary.
https://www.youcaring.com/targets-of-the-eastchester-raids-and-their-families-640725
Please call these MDC officials to ensure that the warden and others know that people are aware of the situation and put pressure on them to allow family visits and phone calls for Mr. Mark Clarke.
Phone: 718-840-4200
(Ext: 5549 Case Manager Demosphenes)
(Ext: 5141 Warden's Secretary)
Key points to mention when you call/leave a message:
--Mr. Clarke needs to be allowed visits and be allowed phone calls.
--All documentation about his continued segregation needs to be released to his family.