To:

ATTORNEY GENERAL LORETTA LYNCH, U.S. DEPARTMENT OF JUSTICE
Demand a full investigation on the unjust trial and conviction of Michigan Rev. Edward Pinkney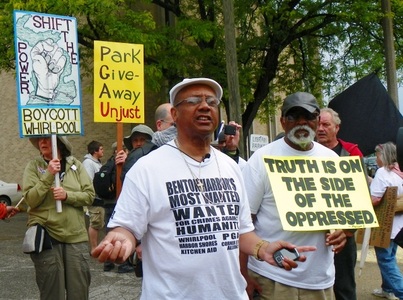 Petition Text
Rev. Edward Pinkney needs our help! Sign here to demand justice by requesting that U.S. Attorney General Loretta Lynch launch a full investigation by the Justice Department to examine the unjust trial and conviction of Rev. Pinkney and the violations of basic democratic rights committed in the process.
Why is this important?
Edward Pinkney is a well-respected minister and community activist who has been imprisoned and sentenced to up to 10 years in prison for allegedly altering five dates on recall petitions in Benton Harbor, Michigan.
In response to what Pinkney assessed as a corrupt giveaway of much of Benton Harbor's public land to the multi-million dollar Whirlpool Corporation, he organized a petition drive to recall the mayor of Benton Harbor. The state of Michigan responded with bogus charges, his arrest and imprisonment.
Pinkney is an admired civil rights leader in his home state, having organized the Black Autonomy Network Community Organization in response to the June 16, 2003, murder of 28-year-old African-American Terrance Shurn, who was being pursued by Benton Police. He also co-founded a branch of the National Association for the Advancement of Colored People Benton Harbor, Michigan in 2009.
Reverend Pinkney and his supporters believe that his conviction is linked to a strategic governmental plan to halt his community activism and impede his efforts against former Benton Harbor mayor James Hightower and Whirlpool Corp. Black activists and radical leaders who stand up for justice are too often treated as criminals rather than heroes, and are ultimately forced into the U.S. criminal justice system.
Political prisoner Pinkney has been recently moved to the Marquette Prison in Michigan, far away from his friends, supporters, and Benton Harbor home. He has been placed in conditions dangerous to his health and his telephone privileges have been revoked.
As long as Rev. Edward Pinkney remains in prison, his family is left fatherless, and the organizations that he has dedicated his life to stand vulnerable to government dismantlement.
Sign this petition to demand justice for Rev. Edward Pinkney!
* Call Legislative Corrections Ombudsman Keith Barber to demand an investigation into Rev. Pinkney's treatment: 517-373-8573.
* Call Governor Rick Snyder at 517-373-3400. Tell him you are concerned about Rev. Pinkney's safety in an environment of harassment, threats, intimidation, and hostility.