To:

Indiana Department of Corrections
Demand that Indiana DOC Restore Kevin "Rashid" Johnson's Access to His Property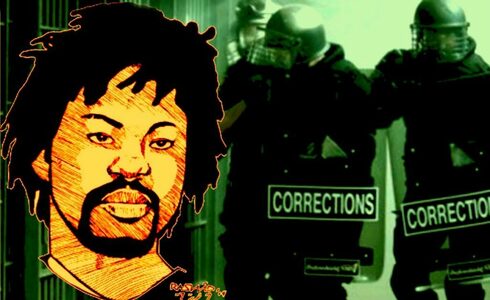 Petition Text
1. IDOC regulation 02-01-101-VIII must be respected! Kevin Johnson (IDOC# 264847) must be allowed to select from his property the items that he most immediately needs. He has been left without any of the material he requires for contacting his loved ones, his writing (this includes books), his pending litigation, and for his artwork.
2. Kevin Johnson should be released into General Population. Prolonged solitary confinement is internationally recognized as a form of torture. Moreover, he has not committed any infractions.
Why is this important?
Kevin "Rashid" Johnson (IDOC# 264847) – a Virginia prisoner – was transferred to Indiana on November 4. His transfer was authorized under the Interstate Corrections Compact, commonly used to ship prisoners out of state. Virginia is one of several states that make use of this practice as a tool to repress and isolate prisoners who speak up for their rights.
These transfers are extremely disruptive, and serve as an opportunity for prison officials to violate prisoners' rights, especially regarding their property. This is exactly what has been done to Rashid.
Rashid has 24 boxes of personal property. These are all of his possessions in the world. Much of these 24 boxes consist of legal documents and research materials, including materials directly related to pending or anticipated court cases, and his list of addresses and phone numbers of media contacts, human rights advocates, outside supporters, and friends.
At Pendleton Correctional Facility, where Rashid is now being kept prisoner and in solitary confinement, only one guard is in charge of the property room. This is very unusual, as the property room is where all of the prisoners' belongings that are not in their cells are kept. The guard in charge, Dale Davis, has a dubious reputation. Prisoners complain that property goes missing, and their requests to access their belongings – that by law are supposed to be met within 7 days, or if there are court deadlines within 24 hours – are often ignored, answered improperly, or what they receive does not correspond to what they have asked for.
Despite having a need for legal and research documents for pending and anticipated court cases, his requests to receive his property have not been properly answered. The property officer, Dale Davis, is supposed to inventory the prisoners' property with them (and a witness) present, according to IDOC regulation 02-01-101-VIII; this was never done. When Rashid did receive some property, it was a random selection of items unrelated to what he asked for, brought to the segregation unit in a box and a footlocker and left in an insecure area where things could be stolen or tampered with.
On December 19th, Rashid received notice that Davis had confiscated various documents deemed to be "security threat group" or "gang" related from his property. Rashid has no idea what these might be, as (contrary to the prison regulations) he was not present when his property was gone through. Rashid does not know how much or how little was confiscated, or what the rationale was for its being described as "gang" related. None of Rashid's property should be confiscated or thrown out under any circumstances, but it is worth noting that the way in which this has been done contravenes the prison's own regulations and policies!
Dale Davis has been an IDOC property officer for 8 years. He has boasted about how he does not need any oversight or anyone else working with him, even though it is very unusual for just one person to have this responsibility. Prisoners' property goes "missing" or is tampered with, and prisoners' rights – as laid out by the Indiana Department of Corrections – are not being respected.
Rashid is not asking to have all of his property made available to him in his cell. He is willing to accept only having access to some of it at a time, for instance as he needs it to prepare court documents or for his research and writing.
After two months in Indiana, he has still not been supplied with his documents containing the phone numbers and addresses of his loved ones and supporters, effectively sabotaging his relationships on the outside. Rashid is not asking for any kind of special treatment, he is only asking for the prison property room to follow the prison's own rules.
We ask that you look into this, and make sure that Mr. Johnson's right to access his property is being respected, and that something be done about the irregularities in the Pendleton property room. We ask that the rules of the Indiana Department of Corrections be respected.
Call the Pendleton Correctional Facility and to ask to speak to the Warden or to someone in the Warden's office. Also, call the Indiana Department of Corrections and ask that they intervene to make sure Rashid gets access to his property. In each case, please be prepared to give a name and phone number for them to call you back, if needed.
Please make phone calls to:
Indiana Department of Corrections
Stephanie Lightfoot
(317) 232-5711 - press 2, press 3, press 2
You may get a voicemail, in which case please leave a detailed message.
Pendleton Correctional Facility
(765) 778-2107; press 3 and then press 1
You will get a receptionist; explain that you would like to convey your concerns to the warden or to someone in charge, about problems Kevin Johnson is having accessing his property.
For updates on Rashid and to access his writings, go to http://rashidmod.com/