To:

Julie L. Jones, Deputy Secretary of the Florida Department of Corrections & Ricky Dixon, Assistant Deputy Secretary of the Florida Department of Corrections
Support OperationPUSH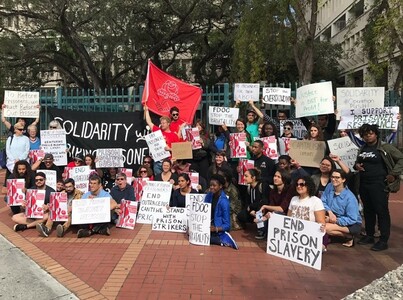 Petition Text
We demand an immediate end to unpaid labor and inhumane work conditions in Florida prisons!
Why is this important?
January 15 marked the beginning of a month-long work stoppage organized by prisoners throughout the Florida Department of Corrections demanding an immediate end to unpaid labor and inhumane working conditions at their facilities. The strike, announced in late December, aims to force corrections officials to pay prison laborers monetary compensation for their work as opposed to "the current slave arrangement," in which they are paid in time deducted from their sentences.
In written statements to news media, the strikers have also demanded increased access to parole, cheaper and more reasonable prices for basic food and hygiene items, voting rights for former felons, and an end to prison-guard brutality. The organized strike began on Martin Luther King Jr. Day — and is named #OperationPUSH, after civil rights leader Jesse Jackson's 1970s-1990s campaign to improve economic conditions for African Americans. Almost a third of Florida inmates are black, compared with fewer than 17% in the general population.

Florida has the nation's third-largest prison system in the United States, with 97,000 inmates. Prison work inside Florida correctional facilities consists of doing laundry, cooking, cleaning, maintaining the facilities, and even growing food for the inmate population. Before the strike began, one organizer wrote that "[the strike's] goal is to make the Governor realize that it will cost the state of Florida millions of dollars daily to contract outside companies to come and cook, clean, and handle the maintenance, [which] will cause a total breakdown."
Outside of the prison, incarcerated laborers work in "community work squads," providing free labor to state offices such as the Department of Transportation, the Division of Forestry, and the Department of Environmental Protection. According report by the FDOC, "community work squads" worked over 3.15 million hours in 2017 alone and saved the state more than $38 million in payroll expenses, including flooding and debris cleanup work after Hurricane Irma.
Ironically, these same incarcerated workers are barred from employment at the state-level upon release, due to their criminal records. Another incarcerated organizer wrote that Florida prisoners "want to create an environment where someone can do their time, be rehabilitated, and enter into society with some type of hope…that would be helpful for society instead of creating a revolving door where you lock people up and just set them up for failure so that they keep coming back." In fear of retaliation, these organizers have asked to remain anonymous.
One week into the month-long work stoppage, internal sources have reported the participation of strikers in at least eight different Florida facilities in the FDOC. Internal sources have reported that many of these strikers have been placed into solitary confinement by correctional officials.
In solidarity with prisoners, marches and protests have been organized throughout the state, and more than 135 civil rights and activist groups, including local chapters of the NAACP and the Florida Women's March, have voiced their support for #OperationPUSH. At a speech at Florida State University, civil rights leader Angela Davis said there is "no better way to keep the legacy of Dr. King alive than by supporting the prisoners' strike."
Will you sign the petition to support #OperationPUSH and to demand an immediate end to unpaid labor and inhumane work conditions in Florida prisons?
Sources:
Movement Against Prison Slavery Ramps Up With OperationPUSH in Florida
https://shadowproof.com/2018/01/11/operation-push-movement-against-prison-slavery-florida/
Florida Prisoners Set to Strike January 15th Against Prison Slavery
https://itsgoingdown.org/florida-prisoners-set-strike-january-15th-prison-slavery/
Striking Florida Prisoners Thrown in Solitary Confinement, Activists Say
http://www.miaminewtimes.com/news/striking-operationpush-florida-prisioners-placed-in-solitary-activists-say-10006900